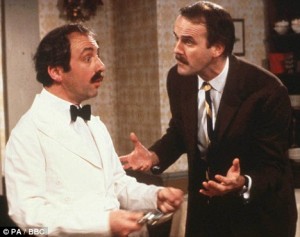 Basil is a bit of a buffoon, it's one of the things we like about his character. There are parts of him that we can all relate to. Feeling put upon or over stressed by the small bits of life, having our priorities in the wrong order, wanting to please ourselves first. In all honesty, we all share portions of these traits at some point during our day. Nonetheless, we get to see them acted out in such elegance and chicanery through Basil Fawlty's personality that we likely don't mind relating a little personally to Basil's bizarre antics. What builds a good TV personality – one that we want to tune in again and again, is the fact that in some way we can relate.
If a character is too stereotyped, it get's a bit boring. For my taste the character of the waiter, Manual played by Andrew Sachs gets overdone with his supposed inability to understand English.   Of course, it's by design that he plays dumb to any instruction given in English, and in my opinion, many of his scenes could have been produced in a 3D printer, same, same. Predictable and structured to frustrate the bajeebas out of Basil, Manual's role, is from my point of view a bit tiresome. John Cleese's Basil makes the most out of the tiresome theme, and thereby still produces a laugh out of me and the rest of his audience, so I have to concede; mission accomplished.
A delightfully engaging kingfish at the Hotel Fawlty Towers is the Major. Played by Englishman Ballard Berkely, his slightly befuddled rendition of the retired military Major Gowen unwittingly sets Basil off on rants. The Second World War is history long past, but occasionally the Major forgets that fact, since he refuses to forgive the Germans. He is a permanent guest at the hotel, and therefore takes his "home" more personally than the guests who are just passing through. If he notices something out of order, it discombobulates him all the more.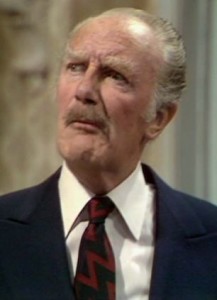 He has an uncanny ability to know precisely when it's six o'clock (without the need of a clock,) and the bar opens for the evening. He is always the first to arrive. The Major adds a depth to the family of players at Fawlty Towers, which opens up another avenue for John Cleese to be his comedic best. They play so well off of each other, while Basil is assuming he has the upper hand in all matters. Both exchanging dry quips about everyday goings-on tend to make the audience listen even closer to the already engaging series of dialogue.
The Major can be irrepressibly politically incorrect. In fact, there are episodes that had to be censored due to the crude lines spoken in a matter-of-fact delivery concerning people of color, ethnic backgrounds and women. British TV didn't have as tight a reign on these matters as the US, and what was just good humor to the Brits, was completely unacceptable by other audiences. Nonetheless, the Major is an essential part of the ensemble that we all look forward to watching.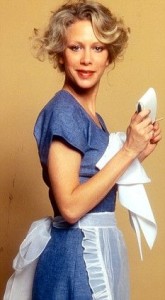 Polly the waitress/maid is played by Connie Booth, who also co-wrote Fawlty Towers – the television show with her husband. At the time she was married to John Cleese and attributes working together and his perfectionism to their divorce. Polly was one of the comparatively "normal" members of the hotel staff. As such she is the glue that holds the Fawlty Towers' family together.
She runs interference between Basil and Manual and protects guests from an oncoming rant, and along the way tries to keep Basil honest. Basil will use the character of Polly as his confidant and pours his troubles out when he has her ear. She sees how he makes more trouble for himself that he realizes, but doesn't have great success in making her point heard. Again a personality that is a brilliant addition which makes up a balanced and at times a relatable group of characters.
Do you have a favorite Fawlty Towers episode? Leave a comment below and share with the rest of us.